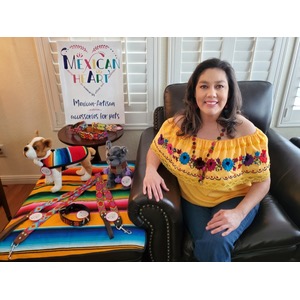 Mexican Heart | Pet Accessories

We are a very proud Mexican family that has lived in the USA for nearly two decades.
For us, artisan products are a fundamental part of Mexican culture. For this reason, we are interested in promoting the artisans' talent through every piece crafted by them through the sale and distribution of these products.
Mexican Heart was born to show what Mexico offers about artisan products that are 100% handmade.
Our commitment is to offer quality products, elaborated manually and individually, obtaining authentic pieces since they are made according to the artisan's inspiration. We are sure that once you have a piece of Mexican Heart in your hands, you will discover why Mexico is recognized for its artisanal talent.
Mission
Offer to our customers Mexican-artisan quality products, guaranteeing their satisfaction and achieving the recognition of the value of artisan work, handmade from their heart.
Vision
Be the leader brand in the United States in the importation, sales, and distribution of Mexican-artisan products and position our brand worldwide and promote the talent of Mexican artisans through our products.
Values
Leadership
Strive daily to position and maintain ourselves as the leading national brand in the importation, sales, and distribution of Mexican-artisan products.
Service
Excellent communication, good attitude, and immediate response always obtain customer satisfaction.
Integrity
Based on the values ​​of honesty, respect, and transparency in our work, all the parties involved benefit from doing things the right way.
Quality
Always provide quality in our products through the excellence in our work.
Passion
To be mindful that we do things with our hearts and that Mexican Heart's objective is to recognize and introduce the valuable work of our artisans. Our commitment is to share their talent with our customers worldwide.